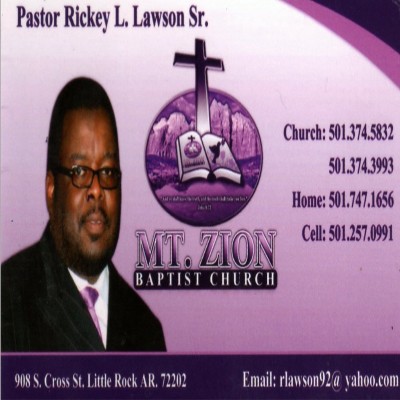 REV. RICKEY L. LAWSON SR.
Rev. Rickey L. Lawson Sr. is a native of Kansas City, Kansas, born on March 8, 1966 to the late Rev. Robert L. and Eva M. Lawson. He is the fourth of four children.
He accepted Christ at the age of seven, and was baptized on May 6, 1973 at the Calvary Baptist Church under the leadership of Dr. O.L. Brown. Being nurtured through Sunday School and the Youth Ministry, Rev Lawson learned much about developing a relationship with the Lord.
In the 1976, Rev. Lawson's family united with the Rising Star Baptist Church where he was involved in the Sunday School, Choir, and Youth Ministry. In 1984, Rev. Lawson accepted the call into the Preaching Ministry and preached his first sermon on September 23rd. On January 8, 1989, Rev. Lawson was ordained into the Gospel Ministry.
In 1990, Rev. Lawson felt the need to explore new challenges and progress to another level of ministry. Therefore, he united with the Mount Zion Baptist Church under the Pastoral Covering of Dr. C.L. Bachus, where his membership still remains. While at Mount Zion Rev. Lawson was involved in the Sunday School and Male Chorus. He credits much of his success in the ministry to Lord and the insightful leadership of Pastor Bachus.
Rev. Lawson was educated in the Kansas City, Kansas Public School System. He graduated from F.L. Schlagle High School in 1984. Upon accepting the call to the ministry, Rev. Lawson received his theological training from Western Baptist Bible College and Calvary Bible College of Kansas City, Missouri. Later he attended the America Baptist College in Nashville, Tennessee, graduating in 1998 with a Bachelor of Arts degree in Biblical Studies and Pastoral Studies. While attending America Baptist College, he received several honors; he was on the Dean's List for three years, he served as Student Senator-at-Large. He was placed in the United States Achievement Academy Collegiate Directory and he graduated Cum Laude. In 2003, Rev. Lawson graduated with a Master of Arts Degree in Christian Ministries from Malone College Graduate School.
Rev. Lawson has pastored three churches prior to coming to Little Rock, Arkansas. Second Baptist Church of Odessa, Missouri, Mount Pleasant Baptist Church of Cleaton, Kentucky and Shiloh Missionary Baptist Church of Canton, Ohio. Presently, he is serving as the Senior Pastor of Mount Zion Baptist Church of Little Rock, Arkansas.
Rev. Lawson is married to the former Sherry A. Moore and they are the proud parents of five children: Brandon, Jimmika, Rickey Jr., Kiara and Byron.